Eyes and Horns (2021)
Film stills from Eyes and Horns

Festival Screenings
*59th ANN ARBOR FILM FESTIVAL (Official Competition, World Premiere, Ann Arbor, MI, US)
MARCH 23, 2021

*18th VIS VIENNA SHORTS - INTERNATIONAL FESTIVAL FOR SHORT FILM, ANIMATION & MUSIC VIDEO (International Competition Animation Avantgarde, Vienna, Austria)
MAY 27, 2021

*31st WORLD FESTIVAL OF ANIMATED FILM - ANIMAFEST ZAGREB (Student Competition, Zagreb, Croatia)
JUNE 7, 2021

*45th FRAMELINE: SAN FRANCISCO INTERNATIONAL LGBTQ+ FILM FESTIVAL (Animation Shorts, San Francisco, CA, USA) JUNE 10, 2021

*61th ANNECY INTERNATIONAL ANIMATED FILM FESTIVAL (Graduation Short Films Competition, Annecy, France)
JUNE 14, 2021

10th KYIV INTERNATIONAL SHORT FILM FESTIVAL (International Competition & Special Program, Kyiv, Ukraine)
AUGUST 4, 2021

*20th DOKUFEST - INTERNATIONAL DOCUMENTARY AND SHORT FILM FESTIVAL (International Shorts Competition, Prizren, Kosovo) AUGUST 6, 2021

19th IMAGINARIA INTERNATIONAL ANIMATED FILM FESTIVAL (Student Competition, Conversano, Italy)
AUGUST 23, 2021

*36th ODENSE INTERNATIONAL FILM FESTIVAL (Animation Competition, Odense, Denmark)
AUGUST 30, 2021

8th LINOLEUM ANIMATION FESTIVAL (Special Program: Érotique Est Magnifique, Kyiv, Ukraine)
SEPTEMBER 1, 2021

*44th DRAMA INTERNATIONAL SHORT FILM FESTIVAL (Animation Competition, Drama, Greece)
SEPTEMBER 12, 2021

35th MIX FESTIVAL OF LGBTQ+ CINEMA AND QUEER CULTURE (Official Short Film Competition, Milano, Italy)
SEPTEMBER 16, 2021

*24th GUANAJUATO INTERNATIONAL FILM FESTIVAL (Special Showcase: Midnight Madness, Guanajuato, Mexico)
SEPTEMBER 17, 2021

15th ANIMATION VOLDA FESTIVAL (Official Selection, Volda, Norway)
SEPTEMBER 23, 2021

*45th OTTAWA INTERNATIONAL ANIMATION FESTIVAL (International Competition: Student Animation, Ottawa, Canada)
SEPTEMBER 22, 2021

VIBORG ANIMATION FESTIVAL (Best Experimental Competition, Viborg, Denmark)
SEPTEMBER 27, 2021

11th STOPTRIK INTERNATIONAL FILM FESTIVAL (The Borderlands Competition, Maribor, Slovenia)
SEPTEMBER 29, 2021

31st OSLO/FUSION INTERNATIONAL FILM FESTIVAL (Official Selection, Oslo, Norway)
OCTOBER 1, 2021

*16th ANIMEST BUCHAREST INTERNATIONAL ANIMATION FILM FESTIVAL (Erotic Program, Bucharest, Romania)
OCTOBER 8, 2021

*11th INTERNATIONAL SHORT FILM FESTIVAL OF CYPRUS (International Competition, Limassol, Cyprus)
OCTOBER 9, 2021

*23th BUCHEON INTERNATIONAL ANIMATION FESTIVAL (International Competition - Short Film & Korean Short Film, Bucheon, South Korea)
OCTOBER 22, 2021

*40th UPPSALA SHORT FILM FESTIVAL (International Competition, Uppsala, Sweden)
OCTOBER 25, 2021

7th BITBANG INTERNATIONAL ANIMATION AND DIGITAL ART FESTIVAL (International Competition - Graduation Short Animation Films, Buenos Aires, Argentina)
OCTOBER 25, 2021

13th TOFUZI INTERNATIONAL ANIMATED FILM FESTIVAL (Experimental Animated Films, Batumi, Georgia)
OCTOBER 25, 2021

15th BIG CARTOON FESTIVAL (International Student Competition, Moscow, Russia)
OCTOBER 28, 2021

63rd NORDIC FILM DAYS LÜBECK (Filmforum - Official Competition, Lübeck, Germany)
NOVEMBER 3, 2021

44th DENVER FILM FESTIVAL (Student Shorts: Animation Competition, Denver, CO, USA)
NOVEMBER 3, 2021

*25th TORONTO REEL ASIAN INTERNATIONAL FILM FESTIVAL (Official Competition, Toronto, ON, Canada)
NOVEMBER 10, 2021

*25th BLACK NIGHTS FILM FESTIVAL - PÖFF SHORTS (Shorts Competition, Tallin, Estonia)
NOVEMBER 16, 2021



Trailer for Eyes and Horns

Original Title: Eyes and Horns
Format: DCP, 24fps, ProRes, H264
Sound: Surround 5.1, stereo
Process: Color
Resolution: 16:9, HD, 1920x1080
Runtime: 6min 15sec
Country: Germany, South Korea, United States

Credits
Director: Chaerin Im
Producer: Fabian Driehorst
Co-Producer: Chaerin Im
Animation: Chaerin Im
Compositing: Katherina Rival, Lara Ennigkeit
Editor: Fabian Driehorst, Chaerin Im
Music Performance & Recording: Karie Jacobson, Drew Kowalski
Music & Sound Design: Karie Jacobson, Drew Kowalski
Soundmix: Craig Smith

Production Company, Sales, Distribution
Fabian&Fred

Technique
2D, Object animation, Stop-motion photography, Cyanotype printmaking

Logline
The transformation of the over masculine Minotaur inspired by Picasso's print series 'Vollard Suite' leads to the destruction of boundaries of sexes.

Synopsis
The exploration of masculinity begins with the Minotaur, a mythical creature the artist Picasso used to portray himself in his etching print series. The Minotaur goes through a violent struggle between being male and female. Finally, the lines blur, and the boundaries of sexes disappear.

Graduation film for Experimental Animation MFA, California Institute of the Arts, United States


Poster for Eyes and Horns


Director's Statement
The inspiration came when I was going through Picasso's Vollard Suite, an etching series of 100 prints produced from 1930 till 1937. The artwork reflects Picasso's erotic and artistic obsessions through the Minotaur, a hybrid creature who is violent, cruel, and lacks control of his outbursting masculinity. The constant depiction of the Minotaur devouring women that appeared in the prints gave me an unsettling curiosity about the mindset of this self-observant, confident, yet disruptive male artist. I envied the power and acceptance Picasso had, but at the same time was very disturbed by the toxic masculinity and misogyny that were so prevalent in his artwork and love life.

These contradicting feelings and thoughts evoked by Picasso's Vollard Suite was the driving force behind the film Eyes and Horns. With the use of light, reflection,and shadow of the engraved plexiglass and cyanotypes, the film goes through the gender-shifting faces of the Minotaur, a violent struggle between the two sexes, the transformation of the female body, and the destruction of gender connotations. I wanted to talk about the out-dated masculinity Picasso represents, the unnamed women portrayed in numerous artworks, and the transformation between two gender and two sexes. Ultimately, a new sexuality is born from the blurring lines and overturn of connotations. But in the process of this discovery, we realize that numerous categories aside from the binary classification of male and female, or men and women, have always existed, but never properly acknowledged.


Original artwork from Eyes and Horns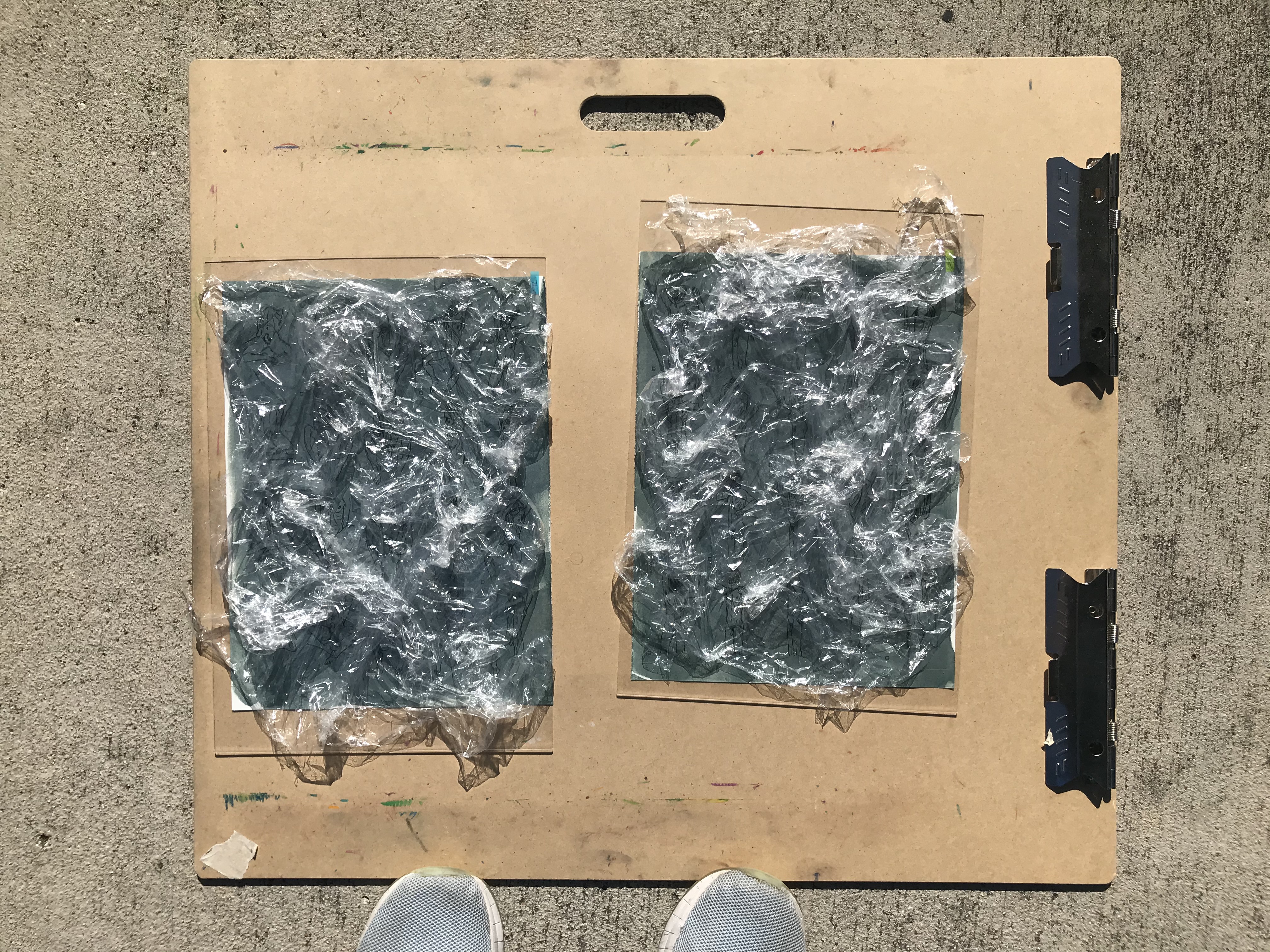 Making process of Eyes and Horns